Could Cannabis become legal nationally?
It's high time (no pun intended) we take a hard look at our national marijuana laws.  This article in the Denver Post gives us hope that lawmakers may be starting to understand that a majority of the public they represent support legalization.  While there are many details to work out regarding how legalization would work, kudos go to Ron Paul, Barney Frank  for leading the way in the charge and now to Reps. Earl Blumenaur of Oregon and Jared Polis of Colorado for stepping up to provide new leadership on this issue.
While I don't agree with the proposed tax structure, I do support the bill.  You can do the same by clicking here to write your U.S. Representatives.
By GENE JOHNSON Associated Press
Posted:   02/04/2013 12:26:34 PM MST
Updated:   02/04/2013 04:58:07 PM MST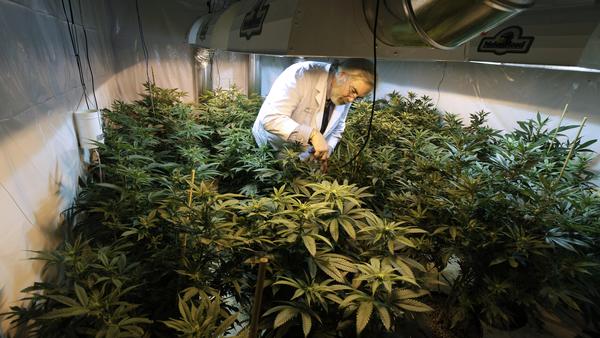 In this Nov. 7, 2012, file photo, Jake Dimmock, co-owner of the Northwest Patient Resource Center medical marijuana dispensary, works with flowering plants in a grow room in Seattle. (AP file | Ted S. Warren)
SEATTLE—An effort is building in Congress to change U.S. marijuana laws, including moves to legalize the industrial production of hemp and establish a hefty federal pot tax.
While passage this year could be a longshot, lawmakers from both parties have been quietly working on several bills, the first of which Democratic Reps. Earl Blumenauer of Oregon and Jared Polis of Colorado plan to introduce Tuesday, Blumenauer told The Associated Press.
Polis' measure would regulate marijuana the way the federal government handles alcohol: In states that legalize pot, growers would have to obtain a federal permit. Oversight of marijuana would be removed from the Drug Enforcement Administration and given to the newly renamed Bureau
In this June 8, 2011, file photo, Rep. Earl Blumenauer, D-Oregon, speaks during an interview, in Portland, Ore. (AP file | Rick Bowmer)
of Alcohol, Tobacco, Marijuana and Firearms, and it would remain illegal to bring marijuana from a state where it's legal to one where it isn't.
The bill is based on a legalization measure previously pushed by former Reps. Barney Frank of Massachusetts and Ron Paul of Texas.
Blumenauer's bill would create a federal marijuana excise tax of 50 percent on the "first sale" of marijuana—typically, from a grower to a processor or retailer. It also would tax pot producers or importers $1,000 annually and other marijuana businesses $500.
His office said Monday it doesn't yet have an estimate of how much the taxes might bring in. But a policy paper Blumenauer and Polis are releasing this week suggests, based on admittedly vague estimates, that a federal tax of $50 per ounce could raise $20 billion a year. They call for directing the money to law enforcement, substance abuse treatment and the national debt.
Read the full article at http://www.denverpost.com/news/marijuana/ci_22516321/apnewsbreak-effort-building-change-us-pot-laws