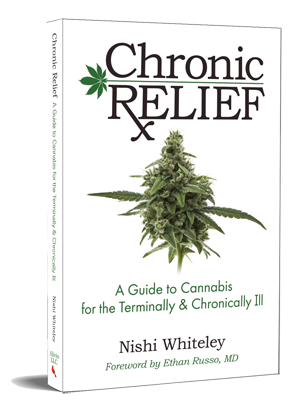 Chronic Relief: A Guide to Cannabis for the Terminally and Chronically Ill bridges the gap between the vast amounts of cannabis science and practical application for patients.  The book translates medical science into layman's terms in a way that patients and their caregivers can understand and use to decide if cannabis is a fit for them, how to choose intake methods, understand risks and harm reduction strategies, and where to start in terms of establishing an effective dose.  Where science does not exist, it provides the best possible anecdotal information compiled from experts and patients alike.
People from all backgrounds are curious about cannabis.  And, beginning to realize that much of the information they have been taught about cannabis is based on misinformation and fear — not science and reason. It is time we bring science to the forefront of the conversation about cannabis and dissolve the cloud of shame, secrecy and controversy around the use of this legitimate medicine and empower millions of people to get the relief they deserve.

Over 12 cannabis experts have contributed their knowledge to this book! World renowned medical cannabis expert Ethan B. Russo, MD served as the final medical editor for the book and wrote the Foreword. Dr. Russo is a board-certified neurologist, psychopharmacology researcher, and former Senior Medical Advisor to GW Pharmaceuticals. He served as study physician to GW Pharmaceuticals for three Phase III clinical trials of Sativex.  Sunil K. Aggarwal, MD, PhD, physician, scientist, and medical geographer also served as a medical consultant for the book.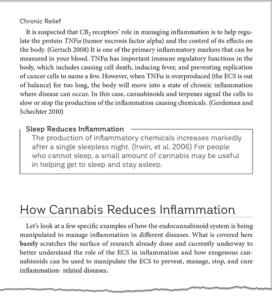 Foreword by Ethan B. Russo, MD
"Nishi Whiteley has provided a great service in delivering a clear and refreshing voice and orientation to the subject of cannabis, born of necessity, and answering the critical questions: If I or my loved one suffer from an illness that "conventional medicine" has failed to treat adequately, might cannabis help, and if so, how would I go about using it properly?"
What You'll Learn
Science
Benefits
Application

How and why cannabis works
Why cannabis is so safe
What is the endocannabinoid system

Reduces pain and inflammation
Protects the brain
Fights cancer and other disease

Intake methods
Risks and how to reduce harm
How to get started
Praise from the Experts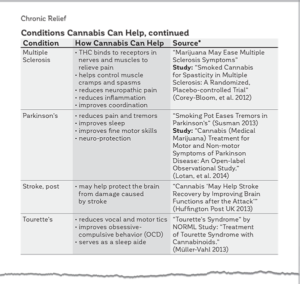 Sunil K. Aggarwal, MD, PhD | cannabinologist.org
"Nishi Whiteley's thorough and painstakingly researched work makes it possible for ordinary people, who may not be scientists or health professionals, but who nevertheless strive to provide the best caregiving for themselves and their loved ones at home, to have the benefit of an easy-to-use guide rich with practical, scientifically based information on the many ways to utilize cannabis for health and relief and come away with an understanding of the innate system in our bodies through which it acts."
Dustin Sulak, DO | healer.com
"Chronic Relief is not just a book about cannabis; it's a book about living life to its fullest, designed to empower readers to take control of their own health.  Nishi Whiteley weaves together decades of cannabis research and experts' previously unpublished observations into a coherent and easily accessible format, emphasizing the findings that are most relevant to patient care and successful use of medical cannabis.  The science is highlighted with hope-inspiring vignettes and all the practical tools and recipes required to achieve the maximal benefits and avoid the common pitfalls in cannabis medicine.  This will become my most highly recommended book to my patients and their loved ones."
Jokubas Ziburkus, PhD | Associate Prof, Univ of Houston
"This is one of the best books on cannabis in the world and on Amazon. It is especially well positioned from the perspective of and for chronically ill patients. It is an epic piece of work with many scientific references. It is accessible to lay folks and, at the same time, very useful and refreshing for advanced scientific minds."

About the Author
Nishi Whiteley, is a business development and marketing consultant turned cannabis educator, speaker and author. After seeing the relief cannabis provided her mother at the end of her battle with lung cancer, Whiteley was inspired to share what she has learned so others would benefit from her mother's experience.  She is also the curator of the website MyChronicRelief.com.
Book Details
| | |
| --- | --- |
|  Publisher: Alivio LLC |  Pages: 358 |
|  ISBN: 978-0-9971491-0-4 |  List price: $19.99 |
Sample Pages from the Book
How to Buy Your Own Book
| | | |
| --- | --- | --- |
| CreateSpace eStore | Amazon Print on Demand | Kindle Edition |
How to Buy as a Reseller
Book resellers and book retailers may purchase the book at wholesale pricing from CreateSpace or IngramSpark.
| | |
| --- | --- |
| CreateSpace | IngramSpark |
For dispensaries, independent bookstores, or organizations who would like to purchase in bulk, but do not have a CreateSpace or IngramSpark account, please contact us at sales@mychronicrelief.com.
Book: Chronic Relief: A Guide to Cannabis for the Terminally & Chronically Ill
Publisher: Alivio LLC
ISBN: 978-0-9971491-0-4
Pages: 358 in black & white with images
Cover: 6″ x 9″ color gloss
You may read our blog on our website, find other cannabis resources, or contact us on our website. You may also return to our site using the button below.

Reviews from Amazon:

"Seldom have I seen a book with such broad based appeal. Physicians, nurse practitioners, physician assistants and nurses will benefit greatly as Whiteley provides a concise summary of the benefits of cannabis as a medicine. Her research is thorough and complete providing a solid base for her easy to understand summary information. At the same time, her lay readers will find a wealth of information that is practical and easily understood." – Roger

"This book is amazing! It speaks to the layman, and in simple terms, explains the complex subject of medicinal cannabis. If you or someone you know is suffering from Cancer, Epilepsy, Multiple Sclerosis, Autism, AIDS, Arthritis or chronic pain you owe it to yourself to read this book. The author shares the intimate details of her life experiences with medicinal cannabis and her journey from a skeptic to an advocate of this wonderful plant and it is an inspirational story. And while this book is peppered with Nishi's personal anecdotes, it is also filled with the most current information relating to the many aspects of medicinal cannabis, thoroughly researched and presented in a concise and easy to understand manner. This book is a compendium of valuable information and a treasure trove of additional resources and research to aid the reader in developing a deep understanding of how and why cannabis is powerful medicine for so many conditions. At the same time, it is a touching and personal book that made me laugh and made me cry."

"Have you wondered if cannabis is a real medicine? And if it is, how does it work? Will it work for my pain or illness? If so, what kind of cannbis do I use; how do I use it? Nishi Whiteley helps to answer all these questions and more. She dispells the myths and misinformation regarding marijuana – all while speaking to you as a best friend and guide." – Julie E.

"A brilliant handbook for anyone using medicinal cannabis to treat chronic illness and/or pain. Chronic Relief is very well researched on the science of how cannabis impacts the body to relieve pain, cure disease, promote healing. This book is filled with simply explained science, compassion of a caregiver, and a wide variety of recipes." – Freya J. Kelly

"Chronic Relief is a wonderful book! Whether you're new to medical marijuana or an experienced user or caregiver, you will find this book informative and easy to read."

"More people should read this book.