Worldwide Marijuana March on the Texas Capitol Set for Saturday May 3 at 4:00 PM
April 30, 2014 Austin, Texas – The annual Worldwide Marijuana March occurs on the first Saturday of May across the globe to raise awareness for the need for global cannabis law reform.  The Austin chapter of Texas NORML (National Organization for the Reform of Marijuana Laws), will host one of approximately 300 marches occurring on Saturday May 3rd throughout the world.  Austin participants will assemble at 4:00 pm at the Austin City Hall and walk up Congress Avenue to the Texas Capitol.  Speakers are scheduled to begin at 5:45 pm and will include: Bill Norton, Co-Founder of Texas NORML; Heather Fazio, Marijuana Policy Project; Vincent Lopez, Texas NORML's Director of Patient Outreach and the founder of the Patient's Alliance for Cannabis Therapeutics. Music will be provided by Jessica of The Love Leighs.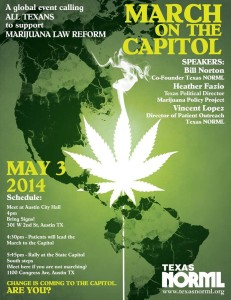 Cannabis possession is illegal at the federal level based on policies that have NOTHING to do with science but instead are based in fear, greed, ignorance and racism.  Current cannabis laws are a drain on our tax dollars for a war on drugs that is not working, retards economic growth, promotes black markets, stresses our criminal justice system diverting attention from serious crime and makes criminals out of otherwise productive citizens.  Twenty-one states have established medical cannabis laws that allow access to cannabis for medical use with Colorado and Washington voting also for legalization of recreational use. However, federal law trumps state law, leaving every patient, grower, cannabis business and cannabis user vulnerable under federal law. The U.S. Attorney General has the authority to change the schedule classification of cannabis and has ignored the recommendations from three Drug Enforcement Agency (DEA) Administrative Law Judges, that recommended that they do just that.  The AG has abdicated responsibility to the President who has yielded to Congress on the issue – thus far.  In Texas, cannabis laws must be changed at the legislative level. A public ballot initiative is not an option as it has been in many other states.  Thus, it is important for cannabis advocates to let their state and national elected officials know that cannabis law reform is a critically important issue to them so lawmakers can carry out the will of their constituents.
Currently, cannabis is a Schedule 1 drug which is considered by the DEA to be highly addictive and have no known medical use.  Yet, the science shows that cannabis is less addictive than caffeine, has no serious side effects and has tremendous versatility to treat a wide variety of chronic symptoms such as pain, inflammation, nausea/vomiting, depression and more.  Science also indicates that components of the cannabis plant have strong anti-cancer properties including slowing tumor growth and in certain cancers it has created cell death in human cells.
The U.S. Department of Health and Human Services currently holds patents on cannabinoids – one category of active components of the cannabis plant – for their neuroprotectant and antioxidant properties. How is it possible that one branch of government sees the medical value of the cannabis plant for not only its ability to manage many chronic symptoms of disease but also the possibility of using cannabis to change progression of diseases like diabetes, cancer and Alzhiemer's, and another branch says that it has no known medical use?
Polls done by the Marijuana Policy Project (9-2013), the Texas Tribune (2-2014) and the Austin Business Journal (2-2014) show that a majority of Texans support the legalization of cannabis.  The March on the Capitol is a great opportunity for the public and the media to get educated about this issue and show their support for cannabis law reform.  Many well informed people will be on hand to answer your questions including cannabis educator and author, Nishi Whiteley, the author of the forthcoming book, Chronic Relief: A guide to cannabis for the terminally and chronically ill.
*If you live outside of the Austin area, contact your local NORML chapter for their march details.