Marijuana (cannabis, marihuana) is a remarkable plant. It is NOT the evil or dangerous drug we have been led to believe.  In fact it is highly versatile, providing relief for many different ailments and symptoms with a high degree of safety.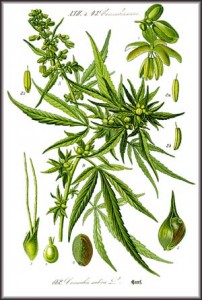 Consider this:
Marijuana is safer than aspirin and has 20 times it's anti-inflammatory power.
No one has died due to over-consumption of cannabis.  In fact the lethal does is unknown but suspected to be as high as consuming 800 cigarettes in 15 minutes which is not humanly possible.
Cannabis increases the effectiveness of opiate drugs making it possible to reduce the opiate dosage thereby reducing the risk of addiction.
Cannabis is far safer than any other intoxicant or drug.
Smoking cannabis does not cause cancer.
Marijuana does not kill healthy brain cells.  It has been proven to selectively kill cancerous brain cells in test tube research.
Cannabinoids (phyto) are one of the major groups of chemicals produced by the cannabis plant. They mimic important chemistry in our bodies called endocannabinoids (cannabinoids within) that are produced by our bodies to control, regulate or participate in all of the major biological functions of our bodies.  Echinacea is the only other plant that produces cannabinoids and it only produces one.
Whether you or someone you love is living with dis-ease, fighting it or dying from it, cannabis may be a source of relief from general pain, chemo induced neuropathic pain and nausea. Cannabis is also widely known to increase appetite to fight wasting in AIDS and cancer patients.  Many people with Multiple Sclerosis, Cerebral Palsy and Crohn's disease have found it useful in controlling muscles spasms. And epilepsy patients find that high CBD oil is useful in controlling seizures. Regardless where one is in their health journey, responsible use of cannabis may help people live and die with improved quality of life. It is important to note that cannabis is NOT a cure all and does have risks and some side effects.  Nonetheless, it remains one of the safest drugs in pharmacopeia.
Why is Cannabis Effective?
Components of the cannabis plant (phytocannabinoids) mimic chemicals in the human body (endocannabinoids). These chemicals are a critical part of our internal harm reduction system known as the Endocannabinoid System (ECS).  The ECS plays a major role in ALL biological functions of the body including:
Pain
Immune Function
Temperature Control
Inflammation
Hunger
Nausea & Vomiting
When the ECS is unable to keep balance in the body, illness occurs.  Cannabis can be effective at supporting the ECS into a more balanced state that supports healing.
Active Components of Cannabis
2 primary classes of chemical components create the therapeutic benefits & side effects of cannabis: cannabinoids and terpenes.
Cannabinoids are largely unique to the cannabis plant.  There are over 70 known cannabinoids.  Only a handful of them have been researched.  THC and CBD are the primary cannabinoids. They exist in the plant as a cannabinoid acid until the plant material has been heated thus converting the acid to a cannabinoid.  This is called decarboxylation and occurs at approximately 212F. Cannabis is otherwise not psychoactive.
THC – (Delta-9 Tetrahydracannabinoid) Most common cannabinoid. Thought to be the only psychoactive cannabinoid.
CBD – (Cannabindol) the 2nd most common cannabinoid.  Non-psychoactive. Counterbalances the psychoactivity associated with THC.
 Benefits of THC & CBD (components of cannabis)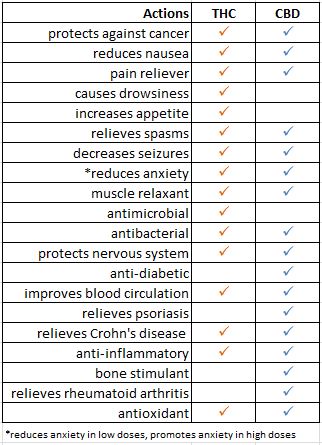 Terpenes are the most commonly occurring class of chemicals in nature & are considered safe by FDA. They are what give cannabis its smell.  Terpenes help provide what is called the entourage effect.  While each terpene and cannabinoid have specific therapeutic benefits, when they are used together such as in vaporizing or a whole plant extract, they collectively increase the therapeutic value of each other component.   For the maximum benefit choose cannabis with a strong smell.
Versatility
The common denominators of disease and injury are pain & inflammation. Cannabis is effective at addressing both & more.
Cannabis frequently can take the place of multiple medications. For example, one could use cannabis instead of 5 different prescriptions for pain, sleep, inflammation, nausea & depression.
Cannabis Safety
No risk of death due to overconsumption. There are few receptors activated by cannabis in the part of the brain that controls breathing & heart beat.
Side-effects are generally mild & only last as long as the product is active in your system.
Common Medical Marijuana Uses:
Chemo Induced Nausea & Vomiting
Epilepsy
HIV/AIDS
Migraine
Rheumatic Diseases
Premenstrual Syndrome
Severe Morning Sickness

Glaucoma
Multiple Sclerosis
Chronic Pain
Ulcerative Colitis
Crohn's Disease
Phantom Limb Pain
Depression
Anyone of the above mentioned issues are life altering and can greatly diminish one's quality of life, ability to work or care for themselves.  The drugs that are prescribe for these and other ailments frequently come with side effects that are as bad as the dis-ease or condition.
Relief from Dis-Ease
Marijuana not only gives the patient a chance to be in control of their relief, it frequently costs less than manufactured drugs and has no lasting harmful side effects.
Dr. Lester Grinspoon, Associate Professor Emeritus of Psychiatry at Harvard Medical School argues that marijuana is "less toxic than almost any other medicine in the pharmacopeia: it is like aspirin, remarkably versatile."
It is important to note that Dr. Grinspoon once set out to prove the damaging effects of marijuana in his research. What he found was quite the opposite. He discovered that many people are able to get relief with very small amounts of marijuana, making it possible for them to do normal activity in comfort.  Like alcohol, prescribe drugs and over the counter drugs, marijuana affects everyone a little differently and different types of marijuana will provide a unique experience for the user.  Thus, it is important to consult your physician and begin with small doses until one knows how marijuana affects them or the person they are caring for.
Medical Value of Marijuana
Marijuana has been used as medicine since at least 4000 BC and maybe for as long as 10,000 years (Dr. Lester Grinspoon, 2005).  While drug research shows that cannabis is less addictive than caffeine, the U.S. Drug Enforcement Agency states on their website that "marijuana has a high potential for abuse, (and) has no accepted medical value in treatment in the United States."  Conversely, according to the website Americans for Safe Access www.safeaccessnow.org, more than 6,500 reports and journal articles from around the world support the medical value of marijuana (cannabis).  To see for yourself visit PubMed.