The American public is beginning to discover what scientist have know for 20+ years: Cannabinoids boost the endocannabiod system for the relief of many diverse ailment.  The growing knowledge that cannabis is in fact a safe medicinal agent for many under treated conditions is causing a push for medical cannabis legislation across our great country.  This is playing out in hearings around the nation where states are entertaining legalizing the use of medical marijuana.  This includes the state of Texas where testimony for HB 3785, legislation that would make it legal for patients who have a doctor's recommendation to acquire and use cannabis, was heard on April 28, 2015.  67  people testified in favor of the bill. More people were prepared to testify but the committee asked that unless people had something new to offer that they pass on their turn in the interest of time. Not one person testified against the bill.  The brave testimonies ranged from heart-breaking and gut-wrenching to scientific, including four different doctors.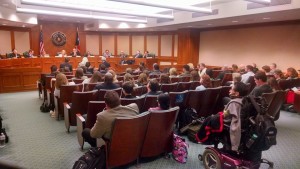 Here is my testimony given for HB 3785 that briefly explains why cannabis can be such an effective medicine:
Why Is Cannabis Good Medicine?
Cannabis is a highly versatile herb that provides relief for many different ailments with a high degree of safety.  There are few cannabis receptors in the part of the brain that control heartbeat or breathing (Donald Abrams 2009).  This is why no one has died from its over consumption – unlike the situation with opiates.
The reasons that cannabis benefits so many different ailments boils down to the fact that a class of chemicals produced in the cannabis plant  – known as cannabinoids – mimic chemicals in the human body called endocannabinoids – or the cannabinoids within.
The Endocannabinoid System
These endocannabinoids along with a series of enzymes and receptors throughout the body make up the Endocannabinoid system or the ECS, which serves as a primary biological harm reduction system tasked with bringing the body back into balance or homeostasis whenever it is challenged by stress, infection, injury or lifestyle.
It regulates, modulates or plays role in every major biological function of the human body including but not limited to:
pain control
mood
immune function
newborn suckling
appetite reward
temperature regulation
memory
inflammation regulation
neuroprotection
(Marzo 1998)
The ECS is critical to human survival. 
Cannabinoids Boost the Endocannabinoid System
When it is no longer able to regulate itself, cannabinoids and other chemicals from the cannabis plant, when properly used, may help stimulate the ECS in a safe, therapeutic and non-toxic way.
The country's foremost expert in cannabis science, and my mentor is neurologist Dr. Ethan Russo. He explains in the document I am providing for you, that the ECS has a network of chemicals that when coupled together result in what is known as an "entourage effect" or a boosting effect that provides an enhancement for the management of pain, inflammation or other problem (Russo 2015).
The same is true for cannabis.  The major and minor chemical components of the plant are vastly more therapeutic together than when isolated and together have fewer side-effects (John M. Mcpartland 2001).
It is for this reason that whole-plant cannabis is almost always a more effective medicinal agent than a single isolated product such as CBD-only products or the synthetic THC drug, Marinol® (Russo 2001).
Most pharmaceutical drugs are designed to address a primary problem and bring comfort.  Cannabis is much more dynamic, stimulating the ECS to address many problems at once in multiple biological layers, not only bringing comfort but restoration in many cases. And, its safety profile is superior to any modern pharmaceutical medicine – including aspirin. We have more scientific data about cannabis than 95% of all FDA approved drugs (Carter 2014).
It is time that we bring science to the forefront of our cannabis policy and dissolve the cloud of shame, secrecy, and fear around the use of this potentially SAFE and legitimate medicine.
Please vote YES for HB 3785.
This blog was written by Nishi Whiteley marketing consultant, cannabis educator and author to the upcoming book, "Chronic Relief: a guide to cannabis for the chronically and terminally ill."  Learn more at https://mychronicrelief.com/bio-nishi-whiteley-author-speaker/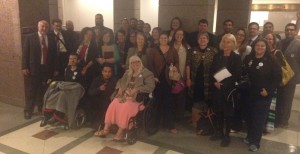 Read more of the testimonies given that day: http://txcann.com/2015/04/28/texans-hear-tearful-testimony-on-behalf-of-medical-marijuana-bill/#more-3947
Watch video of the testimonies for HB 3785 with Nishi Whiteley's testimony starting at 9:54: http://tlchouse.granicus.com/MediaPlayer.php?view_id=37&clip_id=10993
Bibliography & Recommended Reading
Carter, Gregory T. "Cannabis in the Management of Neuromuscular Disorders." The Eighth National Conference on Cannabis Therapeutics – The Endocannabinoid System and Age-related Illness. Portland: Patients Out of Time, 2014. NA.
Donald Abrams, Andrew Guzman. "Cannabinoids and Cancer." In Integrative Oncology, by Andrew Weil, Donald Abrams, 147-170. New York: Oxford University Press, 2009.
Ethan B. Russo, Jo. "Taming THC: potential cannabis synergy and phytocannabinoid-terpenoid entourage effects." British Journal of Pharmacology, 2001: 1344-1364.
John M. Mcpartland, Ethan B. Russo. "Cannabis and Cannabis Extracts: Greater than the Sum of Their Parts?" Journal of Cannabis Therapeutics, 2001: 103-132.
Marzo, Vincenzo Di. "'Endocannabinoids' and other fatty acid derivatives with cannabimimetic properties: biochemistry and possible physiopathological relevance." Biochemica et Biophysica, 1998: 153-175.
Russo, Ethan B. Introduction to the Endocannabinoid System. subject overview, Los Angeles: PHYTECS, 2015.