By Nishi Whiteley
Attorney General Jeff Sessions once said, "Good people don't smoke marijuana." And more recently tied it to violent crime and contributing to the opioid epidemic. How is it possible that such an educated individual is so grossly uniformed, out of touch, and flat wrong about this topic in this age of science and information?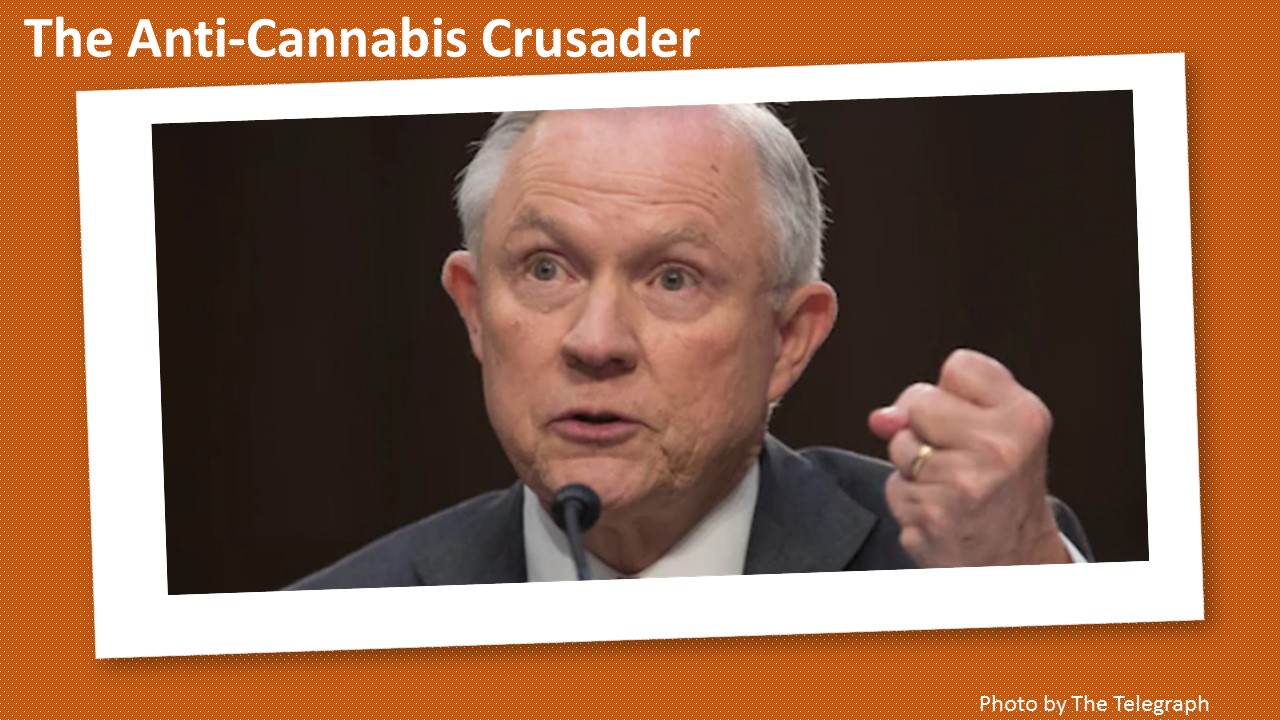 Sessions Goes After Legal Cannabis Market
On January 4, 2018, AG Sessions rescinded the Obama-era Cole Memo (2013) that offered protection for businesses and patients operating legally within states that have enacted medical cannabis laws.  This is a direct attack on the will of the American people who have voted to legalize cannabis in their states. Known as a state's rights guy and one with a disdain for all things "marijuana" (more accurately called cannabis), Sessions' new war on the legal cannabis market could be the pathway to national legalization for the benevolent herb. According to Arcview, the leading cannabis industry investment and market research group, North American consumers spent $6.7 BILLION on legally purchased cannabis products in 2016, up thirty-four percent from the previous year. What is going to happen when the millions of Americans with safe access to cannabis have to go back onto the black market to buy cannabis to relieve their chronic health issues – or worse, turn to opiates?  What is going to happen in states that have experienced millions in increased tax revenue no longer have it?
While not Mr. Sessions' intent, his hypocritical about-face on a state's right to legalize cannabis and his likely strict enforcement of federal law may back fire.  His actions could put enough tax money and economic benefit at risk in legal markets that he might get the fight of his life from Congressmen, governors, state attorneys general and those who voted for cannabis legalization and are benefiting from it. Consider that:
60% of Americans now live in legal cannabis states
29 states and the District of Columbia have some sort of medical cannabis law
8 states allow adult use (20% of the country live in these states)
A 2016 Gallop poll showed that 13% (1 in 8) of American adults currently use cannabis
Sessions claims his goal is to protect the people from violence, organized crime, and the gateway to hard drug use.  However, his position is not supported by legitimate data.  In fact, medical cannabis states have seen reduced crime rates, a twenty-five percent reduction in opioid overdose deaths, reduced teen use and a significant increase in tax revenue.  Additionally, states that allow medical cannabis use have experienced significantly lower Medicare prescription expenses and a reduced use of opioids.
In a recent press conference shown on the PBS News Hour, Sessions said, "I am afraid the public is not properly educated about marijuana."  It might be time to look in the mirror Mr. Sessions.  The public is becoming increasingly educated about cannabis and over sixty percent of us support its federal legalization for adult use and over eighty percent support medical legalization!
We can longer overlook the vast amounts of scientific evidence that indicate cannabis is a safe, versatile, and efficacious medicine which should be de-scheduled. While I disagree with Sessions on his opinions about cannabis, believe he is misguided, and willfully ignorant on the subject, it is more important to change these bad laws than change his mind. His job is to enforce the law – even if it is a bad one. Our job as citizens is to speak up and demand that our policy makers do better!
Our current cannabis laws are antiquated benefiting private prison corporations, law enforcement budgets, organized crime, pharmaceutical companies and anyone who receives financial support from those organizations – not you and me.  If you believe cannabis law needs reform, speak up and be a part of the solution!
Two Things You Can Do Now
A democracy requires citizen participation.  Our elected officials need to hear from us if they are going to find the courage to make the needed changes to federal cannabis laws!  The following are a list of things you can easily do that will make a difference:
Let your members of Congress know you Support of The Marijuana Justice Act of 2017 which is now pending in both chambers of Congress. Click here to send them a letter.
Become a member and donor to one of these important national organizations:
The ridiculous War on Drugs has been a failure! Let's create cannabis policy based on SCIENCE, instead of fear and ignorance. Cannabis is a safe, effective and versatile medicinal herb.  It's time we dissolve the cloud of shame, secrecy and controversy around the use of this safe, medical herb and legalize its use to help Americans live and die better!
Excellent Articles About Sessions & His War on Cannabis
Houston Chronicle – https://www.houstonchronicle.com/local/gray-matters/article/Why-Sessions-war-on-weed-won-t-work-12485462.php
High Times – https://hightimes.com/news/attorney-general-jeff-sessions-dazed-confused-american-marijuana-law
Politico – https://www.politico.com/magazine/story/2017/12/16/jeff-sessions-marijuana-216109
Nishi Whiteley is the author of the 2016 book, Chronic Relief: A Guide to Cannabis for the Terminally & Chronically Ill and is the founder and curator of the website www.MyChronicRelief.com. As a cannabis educator she tries to bridge the gap between the vast amounts of cannabis science and safe, practical application for medical users.