At the end of March, Americans for Safe Access hosted the 2015 National Medical Cannabis Unity Conference in Washington, DC.  I was fortunate enough to attend this conference with doctors, researchers, activists, and patients from around the country. We came together to discuss the future of medicinal cannabis policy reform and learn about advances in medical cannabis science. The quality of speakers and the amount of information shared in such a short time was stunning.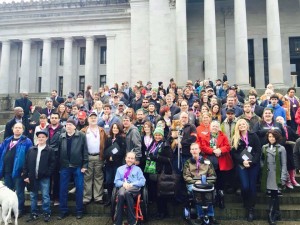 One conference day was dedicated to lobbying.  After learning useful tips about how to effectively run community meetings and events to create legislative change, we traveled to Capitol Hill to meet with our state Representatives and Senators in support of the CARERS Act (see below).  Over 250 patients, caregivers, and researchers from 38 states met with the offices of their federal elected officials to discuss safe and legal access to medical marijuana.
Who Represents YOU in the U.S. Congress?
The CARERS Act
Congress took an historic step last month with the introduction of comprehensive bipartisan medical cannabis legislation in both houses.
On March 10, Senators Rand Paul (R-KY), Cory Booker (D-NJ), and Kirsten Gillibrand (D-NY) introduced the Compassionate Access, Research Expansion, and Respect States (CARERS) Act (S. 683). A bipartisan companion bill (HR 1583) was introduced in the House on March 24 by Representatives Steve Cohen (D-TN-9) and Don Young (R-AK).
If enacted, the sweeping new legislation would amend the Controlled Substances Act to explicitly allow states to set their own medical cannabis policies without violating federal law. The bill would also change federal law to allow banks to provide financial services to licensed medical cannabis businesses, allow Veteran Affairs physicians to recommend medical cannabis to their patients, and enable the cannabis extract cannabidiol (CBD) to be imported to states that have legalized its use.
In short, the CARERS Act would help reshape federal medical marijuana law in six important ways:
End federal interference
Reschedule marijuana from Schedule I to Schedule II
Remove CBD from Controlled Substances Act
Enable access to banking services
Eliminate federal research barriers
Ensure quality for military veterans
While each of these provisions may not be ideally crafted from the patient perspective, the bill creates an opportunity that never before existed with the U.S. Senate. Previously when patient advocates have tried to bring up the issue of medical marijuana with their Senators, many offices have avoided taking an official position because there was no legislation in the Senate on the issue. Now we have something substantive to discuss with them.
In addition, the CARERS Act would reclassify marijuana from its current Schedule I status as a highly dangerous drug with no medical value to Schedule II, recognizing it as a medicine, as well as removing bureaucratic barriers to research and allowing for more production of research cannabis.
"The time has come for the federal government to stop impeding the doctor-patient relationship in states that have decided their own medical marijuana policies," said Senator Dean Heller (R-NV), who has signed on as a fourth sponsor. "This bipartisan legislation puts Americans who are suffering first."
The CARERS Act is endorsed by several advocacy groups, including Americans for Safe Access (ASA), which helped the Senate authors develop the legislation.
Twenty-three states and the District of Columbia have adopted medical marijuana laws. Another 13 states have adopted laws allowing for the consumption of cannabis extracts that are primarily CBD, a non-psychoactive component of the plant that has been used to treat seizures and other maladies.
Currently, a one-year budget amendment prohibits the Department of Justice from interfering in the implementation of state medical cannabis laws, but the DOJ continues to prosecute individuals and pursue forfeiture cases.
The Compassionate Access, Research Expansion, and Respect States Act (CARERS Act) is the first comprehensive medical marijuana bill introduced in the U.S. Senate (S.683) along with its companion bill in the House (H.R. 1538).
I was part of a delegation of 5 citizens from Texas that met with staff from Senator John Cornyn's office and Representative Michael McCaul's office.  What struck me the most about these meetings were the misconceptions and lack of knowledge about cannabis laws and at the same time, the staffer's desire to learn more about the issue.  I was especially heartened by the interaction with Senator Cornyn's office.  They were eager to see the science!  It helped considerably that Dr. Sue Sisley, respected cannabis researcher and physician with expertise in internal medicine and psychiatry, joined our meeting to share her personal experience of challenges in getting medical cannabis research approved to study cannabis as a treatment for PTSD in treatment-resistant Veterans.
What can you do to support this legislation?
Read more about the CARERS Act here: http://www.safeaccessnow.org/senators_booker_paul_and_gillibrand_introduce_unprecedented_comprehesive
Sign the petition urging the US Senate to take action on the CARERS Act: http://www.safeaccessnow.org/senate_carers_act_petition
Contact your US Congress members: http://www.contactingthecongress.org/